With Friend Card we want to enable people with intellectual disabilities to equally take part in various leisure activities for example theater, concerts, movies, swimming or bowling.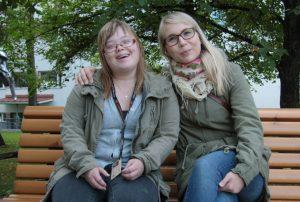 Most people with intellectual disabilities are unable to go to leisure services without an assistant, and if they are responsible for paying expenses of the assistant, the costs are always double. By presenting the card, a person enabling his/her hobby will have free access to the events and hobbies offered by the service providers who have signed up with us. People with intellectual disabilities are still paying their own expenses.
Friend card is held by a person with intellectual disability and they use it with a person of their choice. Please note that the benefit of using the card applies to any intellectually disabled persons assistant/friend/sibling/parent/grandparent who enables the participation of the said individual. However, this does not apply to another person with intellectual disability. We keep a register of all the cards and the cards are personal.
Friend Card is free of charge. Receiving the card requires that the person who applies for the card is diagnosed with intellectual disability, delayed development or autism. Appliers home town must also be in collaboration with Friend Card activity.
Towns in collaboration with Friend Card activity:
Alajärvi, Alavus, Evijärvi, Halsua, Ilmajoki, Isojoki, Isokyrö, Kannus, Karijoki, Kaskinen, Kauhajoki, Kauhava, Kaustinen, Korsnäs, Kristiinankaupunki, Kuortane, Kurikka, Laihia, Lappajärvi, Lapua, Lestijärvi, Maalahti, Mustasaari, Närpiö, Perho, Seinäjoki, Soini, Teuva, Toholampi, Vaasa, Veteli, Vimpeli, Vöyri and Ähtäri
Press here to print the application form
You can also get the application form from our office or we can mail it on request
If the right to use the cars ends, it must be returned immediately to Friend Card activity (for example if you move to a town which is not in collaboration with Friend Card activity). Notify us also if your contact information chances.
Research: Kehitysvammainen henkilö tasavertaisena osallistujana (.docx)