The assistant of a person with intellectual disabilities gets free access to different events and hobbies when presenting a Friend Card. The card can be used for example in many theaters, concerts and swimming halls. The card works in places that we have a contract with. The service providers that have made a contract with us can be found at "service providers" link.
Friend Card is held by a person with intellectual disability and they use it with a person of their choice. The assistant can be a different person each time, but it can not be another person with intellectual disability.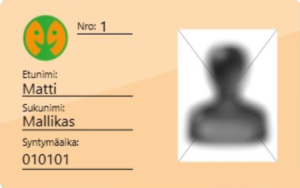 Applying a friend card
Friend Card is free of charge. Requirements for receiving the card is a diagnose of intellectual disability or delayed development. Appliers home town must also be in collaboration with Friend Card activity.
Towns in collaboration with Friend Card activity:
Alajärvi, Alavus, Evijärvi, Halsua, Ilmajoki, Isojoki, Isokyrö, Kannus, Karijoki, Kaskinen, Kauhajoki, Kauhava, Kaustinen, Korsnäs, Kristiinankaupunki, Kuortane, Kurikka, Laihia, Lappajärvi, Lapua, Lestijärvi, Maalahti, Mustasaari, Närpiö, Perho, Seinäjoki, Soini, Teuva, Toholampi, Vaasa, Veteli, Vimpeli, Vöyri and Ähtäri
A Friend Card must be returned to us immediately, if the owner moves to a town which is not in collaboration with Friend Card Activity. Notify us also if your contact information changes.
You can apply a Friend Card with an application form
Press here to print the application form
You can also get the application form from our office or we can mail it on request.
Research: Kehitysvammainen henkilö tasavertaisena osallistujana