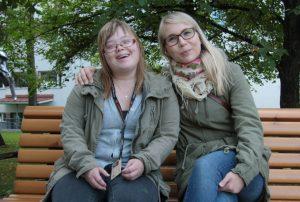 New friends from friend activity
Friend activity unites people with intellectual disabilities and volunteers to friend pairs. Our volunteers can´t be a person with intellectual disabilities.  
Our wish is that the united friend pairs see each other at least once in a month. The friend pair decides what they are doing together. Their common activities must please both of them! They can for example go to the movies, participate in a concert, go for a walk or a cup of coffee together. The volunteer friend is not an assistant for the person with intellectual disabilities and do not get paid salary from the activity.
Friend Card Activity's coordinator will participate at the first meeting between the new friends. At the first meeting friends get to know each other and set ground rules to the friendship.
Distant friend activity
We have started a new activity: Distant friend activity. Distant friends doesn't meet each other face to face like traditional friends does. Distant friends keep contact by remote connections. People with intellectual disabilities can apply for a distant friend with the same application form as the traditional friend.
A person who applies for a distant friend has to have skills and access to equipment which are listed below:
an own email address
skills to use smart devices or a computer
communication skills such as speaking or writing and reading Finnish language
an assistant to help with communication if needed
Using Friend Card in voluntary work
Friend Card is held by a person with intellectual disabilities and friends can use it together when they are participating in different activities. The person with intellectual disabilities pays the entrance fee normally and her/his volunteer friend gets free entrance. It's good to remind the person with intellectual disabilities about the card. She/he may not always remember to use it or doesn't know how to.
Applying a friend
Volunteers in friend card activity have completed our volunteer course. After the volunteer course the voluntary friend fills in a form where he/she can determine what kind of friend he/she would prefer. A friend with intellectual disabilities fills in a similar form. Based on the answers written in the forms, Friend Card Activity's coordinators finds two people with similar interests.
A person with intellectual disabilities can apply for a friend with the apply form below:
Volunteering
Men and women of all ages are welcomed as volunteers. All our volunteers must complete our volunteer course first. We arrange courses 3-4 times a year in different towns which is in collaboration with Friend Card activity. We also arrange 1-2 virtually courses per year.
Friend course
The course spans four evenings or one day of intensive training.The course includes also a visit to a unit that offers living services for people with intellectual disabilities.
Course and the materials are free of charge.
After the course the participants receive a certificate. It is possible for students to earn course credits from the friend course and voluntary work.
Participants decides after the course if they are willing to start voluntary work.
The volunteer is required to have at least basic knowledge of either finnish or swedish.
Feel free to contact us if you would like to be a voluntary friend. Volunteering is meaningful and It is really appreciated!
Tallenna
Research: Ystävyys kortilla: Vapaaehtoisina ystävinä toimivien ja kehitysvammaisten henkilöiden kokemuksia Ystävänkortti Toiminnan ystävätoiminnasta